Good Morning:  A few clouds waking up here in Port Loring Ontario. Was hoping for a bit of rain since I planted the gardens but will have to make do with my rain barrel for now. Tulips are up and showing off these days which always gives me a nice feeling. Especially like the yellow ones. Have a great day.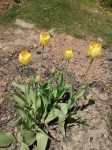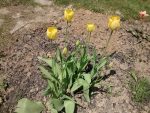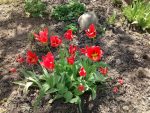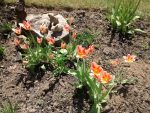 Weather Forecast: Fairly fine, possible showers early. Then lots of sunshine.    Weather Station Home:
Rain Accumulations:  No Rain overnight.
Bug Report: Black Flies are annoying now and will remain with us for a few weeks. Mosquitoes are just starting.
Fishing Report:  Today the old weather stick is saying that the best times to be out there will be from 7:55 AM – 9:55 AM. Then once again, later from 3:02 PM – 6:02 PM. I give it a 4 fish rating out of 5 for catching a few. Good Luck!
Highway Report:  Highway 522 is bare and dry  Traveling will be good today. Would pay to keep an eye open for the deer as they are not their self now with all the black-flies annoying them. Never know when they might choose to run across the Highway in front of you.
Todays Currency:
| | | |
| --- | --- | --- |
| USA 1.3140904913 | Canada 0.7609826010 | |
Moon:
Rises at 11:30 AM with -2:-35 of moonlight, then sets at 8:55 AM
Sun:
Rises at 5:37 AM with 15:20 of sunlight, then sets at 8:57 PM
Time to light the camp fire: 6:57 PM.
Contact Information: [email protected]