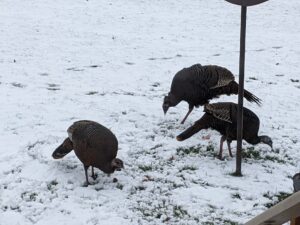 Good Morning!
It's a cloudy, cool morning here in Port Loring. The temperature waking up was sitting at -7.7 C | 18.14 F. It's starting to feel more like winter. We still don't have any snow to speak of, but I am sure it isn't that far off. Which will make the Snowmobilers happy. Makes me smile when I see them out and about having fun. Highway 522 is wet with a few icy sections, but for most, travelling will be pretty good. That is, if you're not going too far north.
On another note, we had some more visitors at our bird feeder yesterday, a few Wild Turkeys. I found they like cleaning up the scraps from what the birds knock out of the feeder onto the ground. Being the nice fellow I am, I throw a bit more down occasionally. Hate to see them make the trip to our feeder for just a few seeds. I also found they enjoy apples. Earlier in the Fall we bought a bushel of Macs that were on sale, some were getting soft, so I threw them out, and low and behold they soon got to eating them. Seemed like they were enjoying them as they were all in a frenzy deciding who would get them first.
Yesterday I stayed in the house writing up a couple stories for my newspaper columns. I enjoy doing that when a story comes to mind. Today I think I will do the same, being that it is such a gloomy cold day. But we should see some sunshine later on in the day. I hope.
Last but not least, this morning, I would like to thank Larry for buying me a couple cups of coffee yesterday, using the Buy Me A Coffee Button here on my Blog. I sure appreciate it. As a matter of fact, my wife is making them for me now. I do enjoy my coffee. Thanks again Larry.
In Closing, I Would Like To Wish You Well. GW