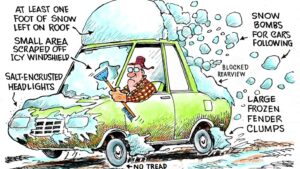 Good Morning!
It's a cloudy morning here, waking up. It has however warmed up a couple degrees from yesterday, with the temperature sitting at -9.9 C | 14.18 F It will warm up a wee bit more as the day moves forward. We didn't have any more snow overnight, but early this morning we had about a 1/2 inch, which gives us about 8 inches in total. So not so bad being this time of year. Although my neighbour Bee just getting back from Huntsville, Ontario said they sure got it bad down there, with a few feet coming down. She went down for Christmas. It was nice seeing her enjoy herself. The one thing we could use more in this town is folks dropping by our seniors and saying hello. It would be nice. But I know everyone is so darn busy these days making ends meat, so they can pay all these taxes, so our Powers That Be can spend it on things that aren't necessary. You know, It would take pages here on my blog to list all the taxes the working man or woman is paying.
Highway 522 is half snow covered this morning, so extra care will be needed if out and about.
On another note I didn't do all that much yesterday, stayed inside bugged the little woman for most parts. I did get to enjoy a few of the treats she made, but paying for it today. Can't eat too many chocolates anymore, or cherry pies, or donuts, or cookies, or chocolate macaroons, or for that matter muffins. They were good though. Ha ha. As I say, the old stomach isn't the greatest this morning, once again. You would think, being over 70 years old, a feller would learn. But we don't, our minds keep thinking that our bodies are in their20s. Good in some ways, but not in others.
Today I will take it easy again.
With that, you all have a great day and stay safe.