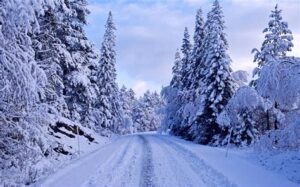 Good Morning!
It's a cloudy, snowy morning here in Port Loring. We did have a good bunch of snow through the night. I would say around 6-8 inches or so. Lot more with the drifts. We were going to head on into North Bay this morning, as we had an appointment at Ford, for a part to be installed on our vehicle, but after walking to my car through the snow, I decided against making the trip. The highway wasn't plowed as then, and being so much snow, we rebooked our appointment. Not a big deal, and we figured it wasn't worth taking a chance driving in these conditions. So that was that.
On another note I didn't do all that much yesterday outside but inside I did get a lot done here on my computer. Today I will be staying inside once again or … if the weather clears up I might wake up my snowblower and clean our driveway. Have to see about that. There is a lot of snow out there. We could see some freezing rain later on too, which won't make things any better. Tomorrow and the next day however it will be well above the freezing mark, which will melt a bunch of this snow we have now. Crazy weather.
With that I am off for a cup of coffee this morning my lovely wife made some earlier for our trip to town, but now that we aren't making the trip … we will have it now instead.
Have a great day and stay safe. Good day to stay home. GW