They wrote a very true statement on the picture below.
I miss my Dad and my old friends who have passed away.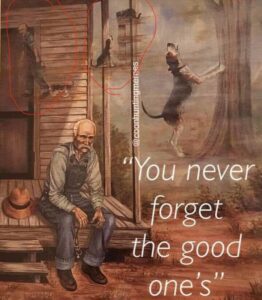 Good Morning!
It's a cloudy morning here, waking up. The good news is we didn't have any more snow overnight and … it has slowly been melting some of this ice, we have on our roofs. The temperature getting out of bed was sitting at -3.9 C | 24.98 F. It will warm up more as the day moves forward. Highway 522 is pretty well clear of snow and ice, but in saying that, we could see some freezing rain throughout the day along with some more snow. We will have to see how that pans out.
On another note, my wife and I, needing a few groceries, headed on into the big city of North Bay yesterday. We figured we would take advantage of the nice sunny day. Kind of glad we did, by the looks of our weather today.
I also wanted to pick up a new winch for my ATV at Canadian Tire that they had on sale. The only issue I had was that the Canadian Tire in North Bay didn't have one in stock, so … we had to make a trip to Sturgeon Falls as we called, and they had 4. Made it just in time as yesterday was the last day of the sale. Saved $80.00. Good in one way but not so good in another as it cost us more for gas ha ha. But it was a nice sunny day, and we enjoyed getting out and away for a bit. We both were getting cabin fever. While there, we came upon a Metro Grocery Store. We decided to check it out and discovered that they had some really great vegetables. Even their Romain lettuce, which is difficult to find at this time of year, appeared to have just been picked. So we bought some, and I had it for supper when we got home. Sure was tasty. After that we drove back to North Bay picked up a few more groceries, had lunch in our car while people watching and slowly drove back home. Great day for sure.
On another note. My current mystery novel will keep me busy for the majority of the day as I work on it. I've been working on it for a year or more, and I decided that this is the year I want to finish it. I am thinking it will lead into a series. We will see how that goes in the coming days.
So with that, I'm off to have some toast and a bowl of cereal.
Stay safe because many illnesses are spreading due to people no longer taking precautions.
GW