My lovely wife's delicious homemade pancakes, topped off with a few Raspberries, Mike Clappertons Maple Syrup and … an Easy Over Egg. Oh, and I can't forget the touch of icing sugar. Which should hold me till lunchtime.
Click on image to enlarge!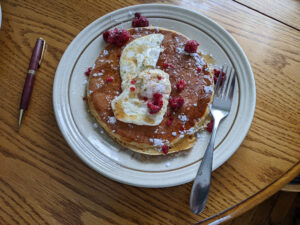 Good Morning!
It looks as if we are in for a real nice day here in Cottage Country. The sun has risen and there are only a few clouds in the sky. However, it is a touch cool out there with the temperature sitting at 6.3 C | 43.34 F. We did turn on our oil furnace this morning to warm things up a touch, and I have to say it feels mighty good. Sign of what's to come.
Highway 522 is still quiet these days, with mostly locals moving around. Although, there are also a few out-of-towners in the area checking out things. I also see Mike at his Marina here in town is busy putting boats away for winter. He is a busy guy for sure.
On another note, my lovely wife and I almost finished tiding up the bush here by our home. With me not well for a couple of years, it has been let go to some extent. At least to where it bothered us. Now that it is cleaned up, it makes it just that much nicer to sit on our front porch, taking in what nature has to offer. Which is a lot if you take the time to watch, listen, and smell things. A lot of folks don't do that today. You know, just the other day my wife and I were sitting on our swing that I made years ago, under our huge basswood tree out back of our home, and my wife says looking up through the leaves at the sun. "Doesn't it look beautiful with the sun shinning down through the leaves and branches." I have to admit she was right. As many times I sat there, I never thought of looking up. It's amazing how something's can be right in front of us, and we miss seeing them.
Today I want to do some work in my woodworking shop getting it ready for making our winter projects. And after that, I think some front porch sittin' will be in order. Just because I can.
With that, have a great day and soak up some of that sunshine while you can. It's the best preventive medicine out there today, other than eating right and staying out of hospitals or doctor's offices, especially this time of year. GW