These two drop by every morning and evening to say hi.  Listening to their unique call ho, ho, ho ho, has the ability to calm anyone. Reminds me of my old Dad sitting out under a palm tree in Florida in the evening hours. As they would entertain us their also. Their call will sound as if they are way off in the distance only to be a few feet away.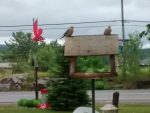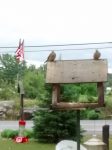 Click Pictures To Enlarge.
Little blurry but still nice to see.