Good Morning: Managed to get my lawn mowed yesterday or what needed it. Still a lot of dry areas that I stay off of being so dry. In the afternoon I headed on out to do some fishing once again with my buddy Barry.  Hot day out there on the water but had a great time.  Being so bright and hot the fish weren't bitting that much.  We did hook on a few nice ones that got away from us.  Supper made up of one nice Bass.  Not complaining mind ya as any day out on the water is a good day.  Enjoy your day. GW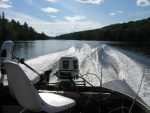 Click Picture To Enlarge.

Weather Forecast: Really nice day shaping up. Plenty of sunshine with warm temperatures. Tomorrow though will be very warm.
Rain Accumulations:  No rain overnight.
Bug Report: Not much activity these days which is a good thing. Few mosquitoes.
Fishing Report:  Today the old weather stick is saying that the best times to be out there will be from 6:00 AM – 9:30 AM. Then again a bit later from 4:00 PM – 9:00PM I give it a 2 fish rating out of 5 for catching a few. Remember don't be in a hurry, give the fish a chance to find your bait, you just never know, there could be a big one just making up his mind.
Highway Report:  Highway 522 is bare and dry this morning. Great day to go anywhere.
| | |
| --- | --- |
| USA 1.3049946623 | Canada 0.7662866592 |
Moonrise: 1:21 PM with 11:39 of moonlight, then sets at 1:00 AM
Sunrise: 5:41 AM with 15:28 of sunlight, then sets at 9:09 PM
Time to light the camp fire: 7:09PM.
Contact Information:  [email protected]