Good Morning: Another warm humid day here in Port Loring Ontario Canada. Today will mosey around the shop working on a few projects that I have lined up. Cool in there so good place to be on days like this. After today things will start to cool down some. Took a couple pictures of the garden yesterday. Click images to enlarge.  Have a great day.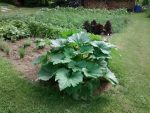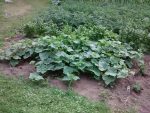 Weather Forecast: Cloudy, warm and very humid today. Maybe a touch of sunshine off and on. Could see a thunderstorm throughout the day and some showers. To be expected with this heat. Temperatures getting out of bed were sitting at 22.4 C | 72.32 F.
Rain Accumulations:  No rain overnight.
Bug Report: Not too much to complain about.
Fishing Report:  Today the old weather stick is saying that the best times to be out there will be from 8:30 AM – 11:30 AM. Then again a bit later from 3:17 PM – 5:17 PM I give it a 4 fish rating out of 5 for catching a few. 'Remember when fishing keep your back to the wind and don't let your shadow be on the water where you are fishing. Movement of any kind makes them leery. With moving water cast up stream and let your bait drift down on its own.' Good Luck!
Highway Report:  Highway 522 is bare and dry this morning. A few deer moving across the highway these days so one should keep an eye open.
| | | |
| --- | --- | --- |
| USA 1.2960958580 | Canada 0.7715478711 | |
Moonrise: 4:17 PM with 10:13 of moonlight, then sets at 2:30 AM
Sunrise: 5:44 AM with 15:23 of sunlight, then sets at 9:07 PM
Time to light the camp fire: 7:07 PM.
Contact Information:  [email protected]