Hmm, I can actually remember when those old plough's were used. They are so old the spelling checker doesn't recognize the word, ha ha.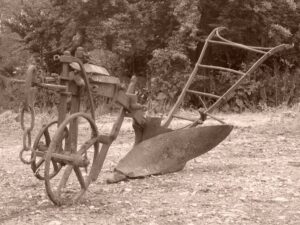 It's once again a cloudy morning here in Port Loring. We did have a lot more rain yesterday and through the night. At least it wasn't snow. Highway 522 is bare and dry this morning, which will make travelling pretty good for those in need of some groceries and things. The temperature has cooled down some, with it sitting at 2.8 C | 37.04 F getting out of bed.
Yesterday I worked in the woodworking shop for most of the day. I am making a one of a kind coffee table using an old wash tub for a base. Once I finish it, my wife is going to do a painting on the top. I will take a picture of it when all said and done. I enjoy doing things like that.
Today I have to take our vehicle down to Kerry's shop, so he can put on our snow tires along with checking out our brakes along with an oil change. I like to change my oil twice a year, once in the spring and once in the Fall. After that, we should be all set for the winter. Having to go into North Bay for groceries every so often, snow tires are a must.
With that I am off for a bowl of porridge that my lovely wife is making for me and will then get on with my day. Stay safe, I hear a lot of folks sneezing and coughing when I was out yesterday. I am glad I wore my mask and put sanitizer on my hands before I Ieft the house.
In Closing I Would Like To Wish You Well.