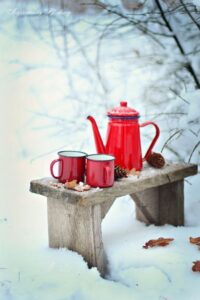 Good Morning!
It's a cloudy, gloomy morning here, waking up. We are also having some light rain, and the temperature has risen well above the freezing mark, with it sitting at 6.8 C | 44.24 F. I would say we have lost half if not more of the snow we had on the ground. I suspect today and tomorrow will get rid of almost all of it. Highway 522 is wet, but the snow that was on it is long gone. Which will make travelling good today.
Yesterday, my wife and I decided to go to town to pick up some groceries and things. The stores were real busy with the parking lots full. We also visited our son for a bit and while there his back went out, which put him in bed. We will see how he is making out today. Always something going on these days. After we got him settled the best we could, we headed on home, as we had a car full of groceries that needed to be put away.
Today we will see what develops, and take it a bit a time. With that, I am off for a bowl of cereal that my lovely wife is making for me.
Take care and stay safe. GW