Just downright tasty, if I do say so myself!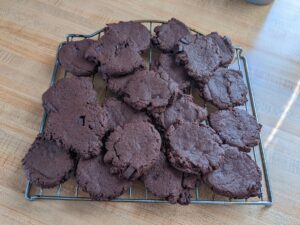 Here is an old-fashioned recipe for Molasses Cookies!
Ingredients:
1 cup unsalted butter, at room temperature
1 cup molasses
1 cup granulated sugar
2 large eggs
4 cups all-purpose flour
1 tsp baking soda
1 tsp salt
2 tsp ground ginger
2 tsp ground cinnamon
1 tsp ground cloves
Directions:
In a large mixing bowl, cream the butter until light and fluffy.
Add in the molasses and sugar, and beat until well combined.
Add in the eggs, one at a time, mixing well after each addition.
In a separate bowl, sift together the flour, baking soda, salt, ginger, cinnamon, and cloves.
Gradually add the dry ingredients to the butter mixture, mixing until just combined.
Cover the dough and chill for at least 1 hour.
Preheat your oven to 350 °F (175 °C) and line a baking sheet with parchment paper.
Roll the chilled dough into 1-inch balls and place them on the prepared baking sheet, leaving about 2 inches of space between each cookie.
Bake the cookies for 10–12 minutes, until they are set and lightly golden brown.
Allow the cookies to cool on the baking sheet for a few minutes before transferring them to a wire rack to cool completely.
These Molasses Cookies have a soft, chewy texture and a deliciously spiced flavor that will take you back to the olden days. Enjoy!