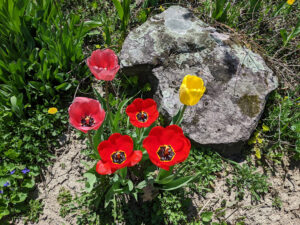 Good Morning!
It's a bit cloudy waking up here in cottage country. The sun will come out for a while this morning, but in saying that we could see a few showers around noon. The temperature has also dropped a wee bit, sitting at 13 C | 55.4 F. It will warm up a bit as the day moves forward. It will also start to get even warmer on Thursday. After that, we should be seeing nice temperatures for the remainder of the summer. So all in all things are looking pretty good.
Highway 522 is getting busier and busier every day, with lots of campers moving into our area, roaming around looking for a place to park. The cottage owners are also opening up their cottages for summer on the lakes and rivers. It is nice to see folks out and about.
Bug Report: Lots of Black Flies out there these days, bugging folks. The mosquitoes aren't bothering anyone yet, but that will change once the temperatures warm up at night. Along with them, pesky deer flies. But hey! You got to give to get, as the old saying goes. Meaning, in this case, a bit of blood for the enjoyment of taking in what nature has to offer, along with the occasional piece of meat.
On another note I am still laid up not being able to walk, it is improving a wee bit, but I suspect it will be awhile by the way things are looking before I can stand upright without pain. However, I can still see that smile on my lovely wife's face each morning I wake up, so I can't complain too much. You know, a person can sure take things for granted. Just take walking, you don't know how lucky you are to be able to walk till you can't.
With that I am off for some waffles my wife is preparing for me and will then see what the day and my body as in mind for me.
Take care and stay safe. GW