Click on image to enlarge! Just looking at the rocking chairs and checker board relaxes a person.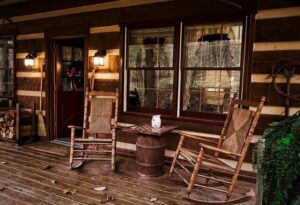 Good Morning!
It's a cold morning here, waking up. Well, not winter time cold, but cold enough you need a coat on when going outside. The temperature struggling to get out of bed was sitting at 1.8 C | 35.24 F. However, in saying that it will warm up a bit as the day moves forward, and we will be having some sunshine, which will make things feel a lot nicer. If my wife and I can get out of the wind, we will try and do some front porch sittin' a bit later. We will see how that works out, as I still can't walk very far with my one leg hurting too much when I stand on it, and not being able to stand up straight. But it is slowly getting better, I can at the very least sleep a wee bit through the night after taking two extra strength Tylenol. But I am still taking in my lovely wife's smile every morning. Makes my whole day.
Bug Report: The Black Flies haven't been all that bad lately, being that we have had so much wet, cool weather. But once it warms up some, they will be back looking for some of the liquid that runs through our veins. The mosquitoes and deer flies are still resting, getting ready for the warmer weather. Other than that, it's not all that bad outside. Besides, the not so good weather.
On another note, being laid up, I am not doing all that much. My wife has been kept busy looking after me, along with doing some of the chores I would be doing if I was able. In between, she is painting a top I made awhile back, which will be a Checker Board. We have a vintage washing machine bottom over a hundred years old, and once she has the checker board painted on the top, we will put it together and place it outside on our front porch, so when a friend or family member drops by for a visit, we can sit and have a cool one and a game or two. You know … more folks should be doing things like that these days. Taking time to chat to old friends, while enjoying a friendly game of checkers. You just don't see things like that anymore. Today it is all about cell phones or computer games.
Other than that, not much else going on around our home. There is lots to do, but it will have to wait till I feel better. My lovely wife has enough on her plate at the moment.
Take care and enjoy some of that sunshine today. GW