Hi folks. Here is a wine rack I just finished. I made two of these last year for a couple folks. It turned out nice and holds 99 bottles of wine. A nice weekend project. The neat part is, if need be, I can make it larger or smaller. I did make one two years ago that held over 400 bottles.
It's designed, so the wine bottle lies flat, and slopes slightly downwards, which in turn keeps the corks for drying out.
Another happy customer, and by the looks of the wine that they have in it already … I am sure they will be happy. Ha Ha.
Click on picture to enlarge!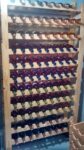 You can reach George Walters at: [email protected]