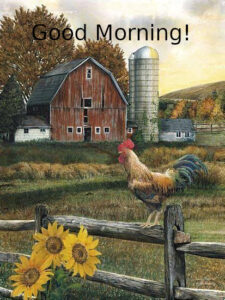 It's a cloudy noisy morning here in Port Loring. Overnight we had lots of heavy rain, along with major thunder and lightning. It woke me up a few times. And we just had another whopper of a storm go through a few minutes ago. But … we were in dire need of rain that's for sure, as the trees and plants need it with their preparation for winter. Not that I am looking forward to that. Highway 522 is still very quiet these days. I am thinking that a lot of people are hurting financial. And I suspect it will get a lot worse in the months ahead. The reason being … we here in Canada are so overly taxed. When the people are being taxed more than they are making, not so good things begin to happen. Along with that though … I also believe that a lot of folks are, and have been living beyond their means. Feeding their wants instead of their needs. A lot have been led down a path making them believe that what ever the Powers That Be says … is right, when it is not. It;s kind of like what us old farmers did to our horses years ago. We put blinders on the side of their eyes so they couldn't see what was going on around them.
On another note my wife and I had a nice weekend with our son coming for a visit. He stayed for the weekend heading back late in the day yesterday. While here he fixed all our technical things that needed fixing, along with us catching up on a lot of other things. It's great to be able to get together again.
Today being that it is raining I will work away here on my computer, that is if the power stays on. It has been going off and on now for the past half hour or so. Since our Powers that be sold the largest part of Hydro One there has been more power outages than ever before. You know, I am beginning to think we all might be better fending for ourselves than have them run our country.
With that I am off for a bowl of cereal that my lovely wife is making for me and will then see what the day has in store. Stay safe, there is a lot of sickness out there these days since the masks were removed. Makes the Pharmaceutical companies happy.
In Closing I Would Like To Wish You Well.